<![CDATA[The most frequent request we get at the Bolton Chamber Visitor Center is for maps – for hiking, biking, attractions, day trips, and general things to do. The Visitor Center stocks all kinds of maps, and we give them to visitors at no charge. We've even been known to go on the Internet to find a map, or occasionally hand-draw a special map for our visitors! Of course we stock New York State and Vermont maps, to give the general overview of where Bolton Landing is in relation to Lake George, Lak
e Champlain, Vermont, Massachusetts, and Canada. Once the "You Are Here" is settled, it is on to, "And where can we go from here?"
Day trips are popular, meaning you can go to where ever and make it back to Bolton for dinner. The most popular destinations have to do with natural attractions and special interests. Ticonderoga is a favorite for history and military buffs, – the fort itself, and the special events such as the military and daily life re-enactments of the Revolutionary War days. The road trip to Ticonderoga is both scenic and interesting: going north on 9N you will go through many of the scenic "Lakes to Locks" sites. If you plan an around the lake tour and come back on the east side of Lake George, you will come through Whitehall, also known as the "Birthplace of the American Navy" and the start of the Champlain Canal. In the days before roadways existed, water transportation was vital – and brought a lot of history with it – especially in who controlled the traffic. Britain and France were the main contenders in the early 1700's and during the Revolutionary War. There was almost constant warfare to decide who would own the strategic north-south transportation route from Montreal to New York City. This interconnected waterway shaped the destiny of both the United States and Canada.
Lake Champlain, Lake George and their connecting La Chute River formed part of a huge natural waterway transportation system from the St. Lawrence River to the Hudson River and southern New York. The New York State Canal system, completed in 1825, connected Lake Champlain with the Hudson River for the trip to New York City. The Erie Canal (these two were constructed simultaneously) runs 363 miles from the Hudson River in Albany to Lake Erie at Buffalo, NY, completing a navigable water route from the Atlantic Ocean to the Great Lakes. These systems carried substantial commercial traffic until the 1970's.
  Today the Lakes to Locks Passage is used by hikers, bikers and recreational boaters. A series of 32 Waypoint Communities have been designated to "meet and greet" the Lakes to Locks Passage visitor. Community museums and attractions serve as Lakes to Locks Passage Heritage Centers. Bolton Landing has seven sites on the Passage map.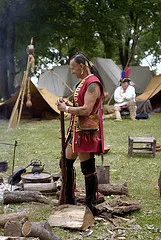 For more information about Fort Ticonderoga, go to www.fortticonderoga.org For more information about the Lakes to Locks Passage, go to www.lakestolocks.com Penelope Jewell]]>