<![CDATA[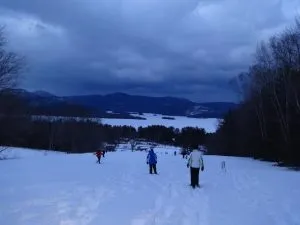 Rachel Zuckerman, a Director of the Bolton Chamber of Commerce, Inc., and a Licensed Associate Real Estate Broker at Select Sotheby's International Realty, was the creative force behind the First Annual Full Moon Snowshoe Hike at Up Yonda Farm on March 15, 2014. About 75+ people participated, making this "First Annual" very successful – keep watch for next year! Rachel's enthusiasm for the hike got other Chamber members and directors involved: Elaine Chiovarou-Brown, our office manager, created the eye-catching poster with Kate Van Dyke's "cool" logo (Kate owns Cedar Graphics Printing and Design Studio); and Wauneata Waller designed the hand stamp for the Restaurant Crawl, only available at the hike site!  Judy Forshay of Chelka Lodge took the initial "hike through" with Rachel, to make sure all was in order for the evening. Mother Nature gifted us with about 18″ (more!) of snow a few days before the hike, and Up Yonda staff members broke and packed the trail.  UP Yonda Farm's Matt Sprow had a selection of snowshoes available for loans, however, not everyone wore snowshoes, many people had Yak Traks, or even ice cleats on shoes – the packed trail was easy navigation.
The weather was perfect for a winter hike – just around freezing – a vast improvement from some of the frigid sub-zero temperatures we've had this winter! Daylight Savings Time was actually on the side of the participants, who hiked up the trail at dusk, led by Pete Olesheski, a naturalist at Up Yonda. Some of the participants had not been to the Farm before, and were able to see the wonderful views from the trail. The original plan was to see the full moon breaking over the summit –
unfortunately, the cloud cover did not cooperate this year. The moon did appear a little later to light the trail back, and the participants came down at their own pace. Once back in town there was the Restaurant Crawl – six local restaurants offered various drinks and dishes to the hike participants with Wauneata's special moon stamp that was available only at the hike. Cate's Italian Garden; Frederick's Restaurant; Lakeside Lodge and Grille; Market Place Steakhouse & More; Mr. Brown's Pub at the Sagamore; and our newest restaurant, the Chateau on the Lake, all offered specials to reward the hikers.
Participants came from all over Warren County and the Capital District – Wauneata, Elaine and Rachel had promoted the hike at the ADK Sports and Fitness Expo in Saratoga Springs a few weeks before – word also traveled through social media on the internet and the Sagamore Resort, which has been open for guests all winter this year. Up Yonda Far
m is an Environmental Education Center, and a wonderful place to visit at any time of year – and it is right here in Bolton Landing! Up Yonda has a natural history museum, maple sugaring in the spring, pond habitats to explore and a butterfly garden in the summer, and hiking trails for any time of year – especially beautiful in the fall. Up Yonda Farm has naturalists who will guide people of all ages through unique learning experiences that are both educational and fun. Up Yonda was donated to Warren County by long-time Bolton Landing residents Alice and John Scott, whose intention was to create an environment where visitors could learn about nature in its own setting, and enjoy the process. They succeeded! The Scotts maintained beautiful gardens during their residence, and their perennial garden was transformed into a permanent memorial garden by an ongoing Up Yonda Garden Club – it is a wonderful. peaceful place to visit. What is your favorite winter occupation in the Adirondacks? I admit I am a "sit by the fire and admire the snow on the pines, one hand on the dog and one hand on a hot cup of tea" kind of girl! But I know a LOT of Bolton residents who just revel in the wonderful winter possibilities in Bolton Landing on Beautiful Lake George!  Check out the snowshoeing, ice skating and snowmobiling blogs of the last few weeks, and the ice fishing blog a little further back – and enjoy this last bit of winter! I am told that spring really is coming in 2014, after all! Penelope Jewell
]]>