<![CDATA[I was thinking about why anyone would put themselves in a place of frigid temperatures, piles of snow and frozen lakes by choice?  Why choose to travel to a place NOW, that in just a few short months will  invite you to swim, sun, boat, camp, hike, bike, jet ski, water ski, tour on motorcycles, shop and relax? I found the answer today as I was walking my chocolate lab for the THIRD time!   HE gets it!  He WANTED to be out in this!

The sun was shining, glaring a bit off the snow.  The roads were clear, birds were actually making their voices heard.  A gentle breeze was blowing, and at a temperature of 32 degrees, was actually pleasant.  No need for a scarf or hood either! Bolton Landing, in the heart of New York's Adirondack Mountains, IS the place to be in March! Those of us who winter here know the secret of its treasures.  Our frozen lake, Lake George, with its 15 inches of ice, plays host to ice fishing, ice skating, snowmobiling and cross country skiing. Area ski resorts offer miles of ski trails for all skill levels with views that will take your breath away! Come to Bolton, plan to play and experience the natural beauty of upstate New York. "When?" you ask! We'll be expecting you on Saturday, March 7, for our FULL MOON SNOWSHOE HIKE, sponsored by the Lake George Mirror and the Bolton Chamber of Commerce.  Plan to arrive at Up Yonda Farm on Route 9N at the north end of town around 5:15 PM for the 6:00 PM step off.  Remember to bring your own snowshoes or Yak Trax, or borrow a pair from the folks at Up Yonda. Some hikers may choose to hike the Pinnacle, the second highest peak in Bolton Landing.  It is an easy to moderate climb, and also requires snowshoes or Yak Trax.  Gathering point for this hike will be the Bolton Conservation Club on Edgecomb Pond Road. Both hikes will be guided by experienced hikers who look forward to sharing their knowledge of these natural wonders. And remember, before you venture out on your hike, to have your hand stamped!  You wouldn't want to miss out on your rewards in the "restaurant crawl"!!!!!.  This year you are invited to warm up and wind down at our local eateries:
Cate's Italian Garden
Frederick's Restaurant
Lakeside Lodge and Grille
Market Place Steakhouse
The Sagamore
All Full Moon Hikers will be eligible for specials exclusive to participants.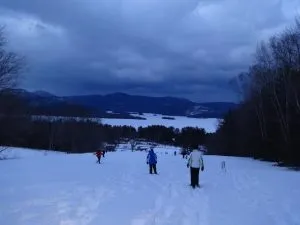 Last full moon of the winter, two great snowshoe hikes…. I'll be at Up Yonda and looking for you.
Which hike will you be taking?
Be sure to say hello!
Winter in Bolton Landing is no longer a secret!
COME JOIN US FOR THE FUN OF IT!!
Learn more about the Pinnacle at LGLC.org, and check out the Pancake Breakfast and Maple Festival at Up Yonda Farm on March 1
]]>